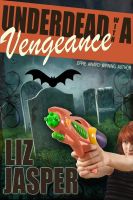 Biting into that third book in a series means you have expectations. And sometimes those expectations can be pretty big. Did the author sustain a quality product? Is the story good or did they drop the ball and just stretch it out? Is the writing consistent? The characters? The humour? If you're investing your time and dollars in a series, in my opinion, it better be entertaining.
Well, thrill of thrills, Underdead with a Vengeance met all my expectations. Jo, the middle school science teacher, meat eater and cookie baker extraordinaire, is every bit the witty heroine she was in the first two books. Even one of her friends and her love interest #1(Gavin) shine a little more as Jo creeps a little closer to her undeadness. Yes, Jo does experience a few more... talents in this book.
Not too long and not too short - it's the perfect distraction. It's easy reading for escapists, but the best part is that this story actually includes stuff happening. It's not just a continuation of the same old thing with fun characters and good dialogue. The story advances. Of course it doesn't advance far enough to actually end the story - which is great. There's a cliffhanger of sorts at the end. So now it's just a matter of time to wait for book 4.
The only real problem that I have with the book is that my daughter is such a huge fan of the series that she's undoubtably going to steal my tablet. On the bright side, she'll probably devour it in one sitting.
I recommend the series. It's kind of a paranormal/cozy mystery mix. There is a little romance, but not enough to ruin the tone or story. Highly enjoyable and at only $2.99 per book it's well worth it. It's every bit as good as many of the super hyped books I've read from traditional publishers - without the atrocious price tag.
Get the ebook on Smashwords:
Underdead with a Vengeance